Hydro-Force SX-12
The latest technology for cleaning tile and grout!
The SX-12 blasts soil and dirt from tile, grout, and smooth or rough hard surfaces. The rotary arm spins to create amazing soil blasting power working from 700 to 2,000 psi, while the vacuum ports pick up all the waste. The SX-12 is ready to work with truckmount carpet machines, pressure washers and vac systems, or the HydroForce high pressure portable extractors.
Works with front-to-back and side-to-side motion.
Works on uneven stone or tile surfaces or smooth concrete.
Light-weight.
Non-fatiguing: glides easily over the floor.
OTHER GREAT FEATURES INCLUDE:
Ergonomic, comfortable hand grips
Easy-pull trigger
1-year full replacement warranty on poly base unit
Split vacuum for even and complete water pick-up
High-grade ceramic swivel - rebuildable!
Low profile: gets under counters
Unique airflow system allows use on portables or truckmounts - both with excellent solution recovery
Stiff nylon brush with skirt - great for stone & concrete
*Notice: Solution hose maximum temperature rating of 212°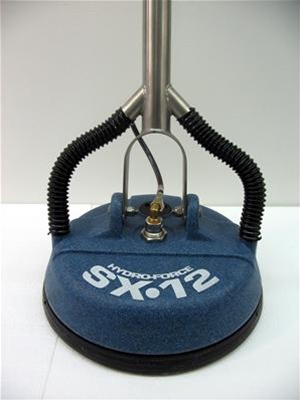 Patent Pending
TILE & GROUT EQUIPMENT : HARD SURFACE CLEANING TOOLS
What People Are Saying...
"After doing some market research, I found that most of my carpet stores that refer me are selling less carpet and more hard surfaces. When Bridgepoint got the SX-12 package, I bought it and of course got grief from the wife for spending money. 'You don't need another gadget to collect dust,' her favorite remarks. The SX-12 and the rest of my tile tool family has me laughing all the way to the bank.

Dane Gregory's class gave me confidence and knowledge to talk to customers. Plus, if I do come across something I'm not sure of, I can always email him. He responds usually the next morning. I don't even look for a carpet job anymore. I spend my sales time tile selling. I'm getting ten times a square foot and more verses carpet."

Thanks,
Rob Roach
ZiaClean
| | |
| --- | --- |
| A - B632 - 1/8" Stainless Steel Veejet Meg 0502 | M - NM4082 - Handle Assembly |
| B - NX102 - 10" Stainless Steel Tee Bar with Elbows | N - BR282 - 90° Brass Elbow - ¼" MPT × ¼" FPT |
| C - NX101 - 90° Swivel - ¼" In × 3/8" Out | O - NA0804 - Brass Strainer Adapter |
| D - BR260 - 90° Elbow ¼" MPT × ¼" T | P - NA0803 - Mesh Strainer with out Check Valve |
| E - NM4090 - SX-12 Roto Molded Head | Q - NA0802 - ¼" Brass Strainer Body |
| F - AB50 - SX-12 Brush Skirt | R - AH102 - ¼" Brass Male Quick Connect |
| G - NM4084 - 3/8-16 × 1½" Stainless Steel Screw | S - 100010 - Spray Gun Handle |
| H - 3/8" Stainless Steel Nylock Nut | T - BR272 - Brass 45° Elbow - ¼" FPT × ¼" MPT |
| I - NM4083 - Black Vacuum Hose - 1" × 9" | U - NM4081 - 10-32 Stainless Steel Nylock Hex Nut |
| J - NM4086 - Vacuum Relief Ring | V - NM4080 - 10-32 × 15/8" Stainless Steel Screw |
| K - NM4087 - ¼-20 × ½" Screw | W - NA031B - Spray Gun Body |
| L - NM4089 - 3/16" ×48" Solution Hose | X - AW104HB - SX-12 Hard Boot Kit |